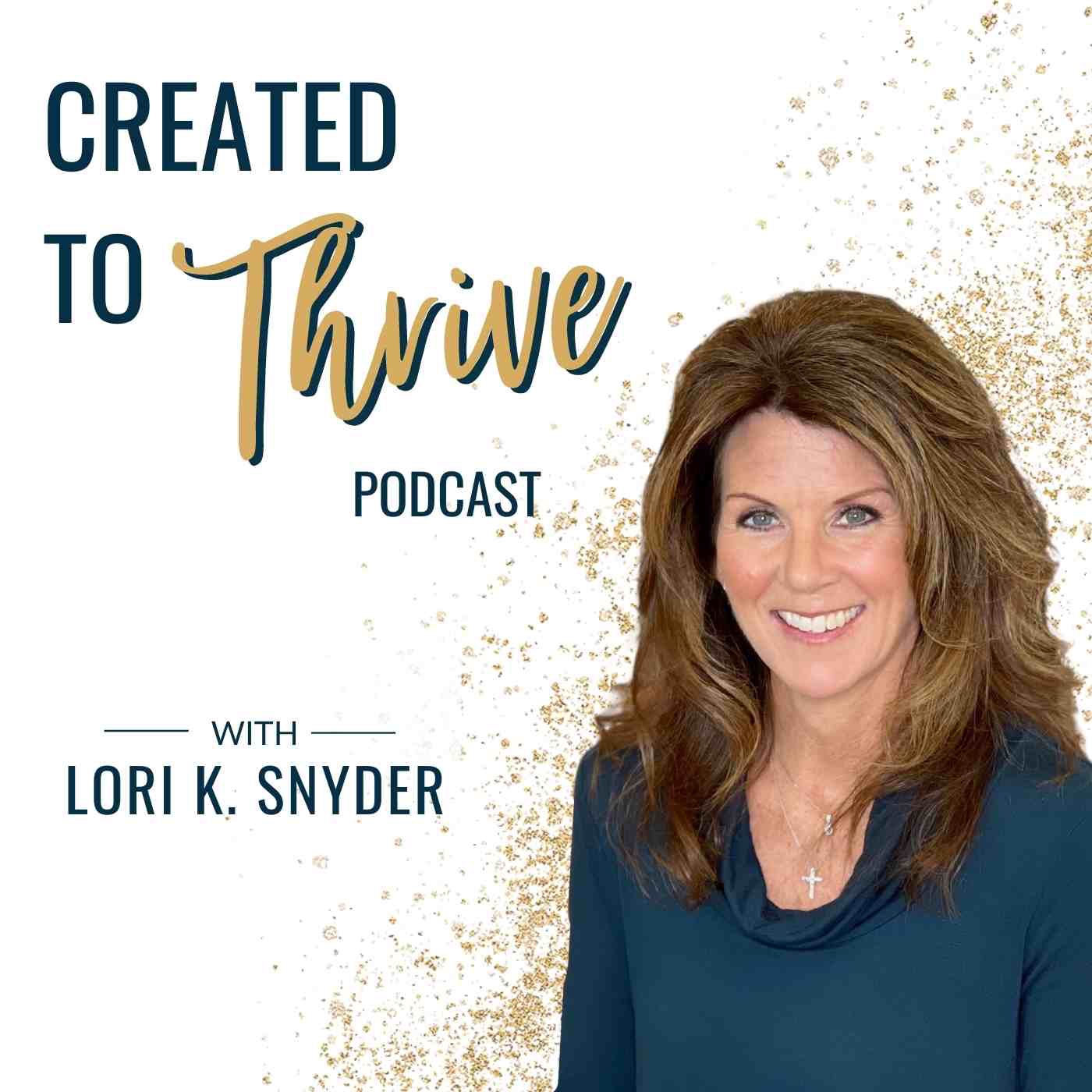 A go-to podcast for practical spiritual growth, resilience, emotional health, and personal transformation to unlock your God-given potential and purpose. ****TOP 5% CHRISTIAN FAITH PODCAST**** Do you want practical steps to help you overcome doubt, disappointments, loss or regret? Do you want to learn how to confidently hear and trust God to move forward with purpose and significance? Created To Thrive is a weekly faith-building podcast that equips you to become resilient and unlock your God-given potential. Through practical, meaningful conversations along with biblical insight, get empowered to step into a joyful life of significance. Hi, I'm Lori K. Snyder, a Christian resiliency coach, minister and Bible teacher. I help people in their midlife jumpstart their lives to thrive in their God-given purpose. I am passionate about equipping people to discover who God created them to be and how to live to the fullest through an intimate relationship with Him and others. I will teach you: -> How to become resilient through life's ups and downs, and navigate doubts and disappointments -> How to manage your emotions and thoughts to gain healthy ways of coping -> Practically apply biblical understanding with wisdom, and form a deeper connection with God -> Find hope, healing, joy and purpose -> Discover the MORE you were created for I will be your guide on this transformative journey, to help you overcome the obstacles that keep you from thriving and live freely and fully! Watch this free Training on How To Live In God's Best: https://loriksnyder.com/free-training/ Let's connect: Lori@loriksnyder.com Community: https://www.facebook.com/groups/thrivingchristianwomen Instagram: https://www.instagram.com/lorikaysnyder/ https://www.facebook.com/lorikaysnyder Learn: https://loriksnyder.com Tax Deductible Donation to support this podcast: https://loriksnyder.com/about/snyder-ministries/
Episodes
Monday Sep 05, 2022
For too many years, I did all of the Christian disciplines: read the Bible, prayed, went to church and serve faithfully…but had no clue how to relate to God on an intimate level. I certainly didn't know about the role of the Holy Spirit in my life. I knew "about" God, but not as a loving Father!
One day, in 2006, I heard "a benediction" at the end of a bible radio show, and my ears and eyes were opened. It was 2 Corinthians 13:14 in the Message translation:  "The amazing grace of the Master, Jesus Christ, the extravagant love of God, the intimate friendship of the Holy Spirit be with all of you." 
I realized I didn't know God in this way, yet I desired for a more meaningful relationship with Him. This began a journey of discovery for me, to understand how to relate to all three persons of the Godhead/Trinity: Father, Son and Holy Spirit.
In today's episode, I share a recent live teaching I did with my good friend, Chris Cree, of New CREEations Ministries, and we discuss some great insights and the importance of how God wants to relate to us.
Key take-aways:
•Grace and Truth came through Jesus Christ. We dive into the Greek meaning of "grace" and how understanding grace changes everything.
•We must receive the love of Father God. Faith works through love and we must take time to get rooted and grounded in His love for us in order to love others well. (Ephesians 3:14-20)
•What fellowship or communion with the Holy Spirit looks like.
**** As my gift to you, I am offering a FREE training that will help you in your journey of knowing God more intimately and experiencing the life He desires you to live—His Best! I want to help you remove lies, receive Truth, and release who your were created to be—His representative here on earth! It's time to live in His fullness and thrive!
Teaching with some activations where you can easily hear from God for yourself. Here's the LINK.
Contact me:
Message me on IG of FB @lorikaysnyder.
*Connect with Chris Cree and find his resources at https://newcreeations.org
Previous podcast episodes with Chris Cree:
•Bonus: Receiving God's Love For You - A Key To Transformation with Chris Cree
•Giving God Your "Yes" To Discover Your Purpose With New CREEations Ministries
•How To Let God's Peace Rule Your Heart with Chris Cree