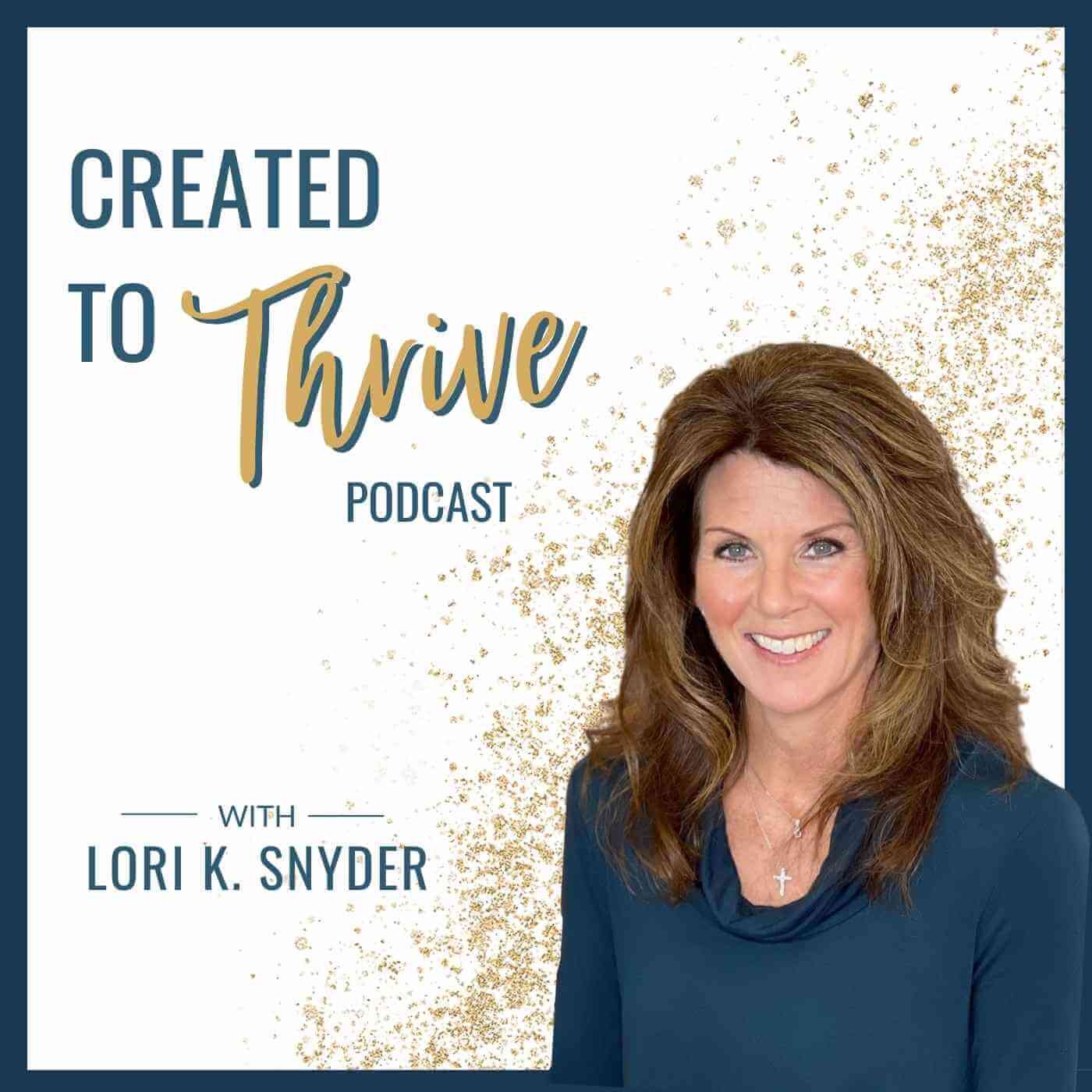 Are you ready to discover who God created you to be, deepen your faith and overcome what's holding you back from thriving? This Created To Thrive podcast will practically show you how! Join us each week to get equipped to become resilient and unlock your God-given potential through the power of Christ. Through practical, heart-centered and meaningful conversations along with biblical insight, you will get empowered to go to a new level! Hi, I'm Lori K. Snyder, a spiritual growth and resiliency coach, minister and Bible teacher. I help people who are hungry for the "more" they were created for to become their reality. Learn how God sees you in your renewed identity, overcome limiting beliefs, manage your emotions, and boldly trust God to step into a joyful life of significance. I will teach you: -> Who you are in Christ and your renewed identity -> God's true nature and character -> How to become resilient through life's ups and downs, and navigate doubts and disappointments -> How to manage your emotions and thoughts to gain healthy ways of coping -> Practically apply biblical understanding with wisdom, and form a deeper relationship with God -> Find hope, healing, joy and purpose -> Discover the MORE you were created for ****TOP 5% CHRISTIAN FAITH PODCAST**** Let's overcome the obstacles that keep you from thriving and live freely and fully! Watch this free Training on How To Live In God's Best: https://loriksnyder.com/free-training/ Let's connect: Lori@loriksnyder.com Community: https://www.facebook.com/groups/thrivingchristianwomen Instagram: https://www.instagram.com/lorikaysnyder/ https://www.facebook.com/lorikaysnyder Learn: https://loriksnyder.com Tax Deductible Donation to support this podcast: https://loriksnyder.com/about/snyder-ministries/
Episodes
Wednesday Sep 28, 2022
Did you know that your emotions can unveil the deep desires of your heart?
Do you want to learn how to identify your emotional needs, heart desires, and heal from trauma?
I am beginning a new series on how we can thrive mentally, emotionally and spiritually, with a biblical viewpoint. 
It's vital we learn how to be self-aware and have heart filling desires be met by God in order to live in His rest and peace.
Today, my good friend, Lisa Pinney is my guest. She is the owner and founder of Wholeness is Practice.
She is an expert in working with hurting people and those with unresolved trauma. Her desire is to make emotional healing, health, and wholeness a regular part of a believer's life everywhere. Lisa's therapy is based upon scriptural principles and cognitive behavior therapy.
We discuss:
•God has put desires within us to accomplish His will
•How to become self-aware of our emotional needs and heart desires
•the importance of connecting deeply to God to get our emotional needs met
•how to avoid self-protection, condemning or devaluing yourself
•to be free to be the real you
•connecting to God to break patterns of unhealthy coping strategies
•how to live out of your heart and into your call
We would love to connect and help.
Connect with Lisa: www.wholenessinpractice.com
Connect with Lori: https://loriksnyder.com
Email: Lori@Loriksnyder.com
Message me on Facebook or Instagram  @lorikaysnyder 
LinkedIn: 
Join my free Thriving Christian Women Community Facebook Group  https://www.facebook.com/groups/thrivingchristianwomen
Also, if you have grabbed my FREE Bible Training for you: "How To Live In God's Best" @ LoriKsnyder.com/free-training/  to understand what God has made available to you through Jesus' obedience and finished work.