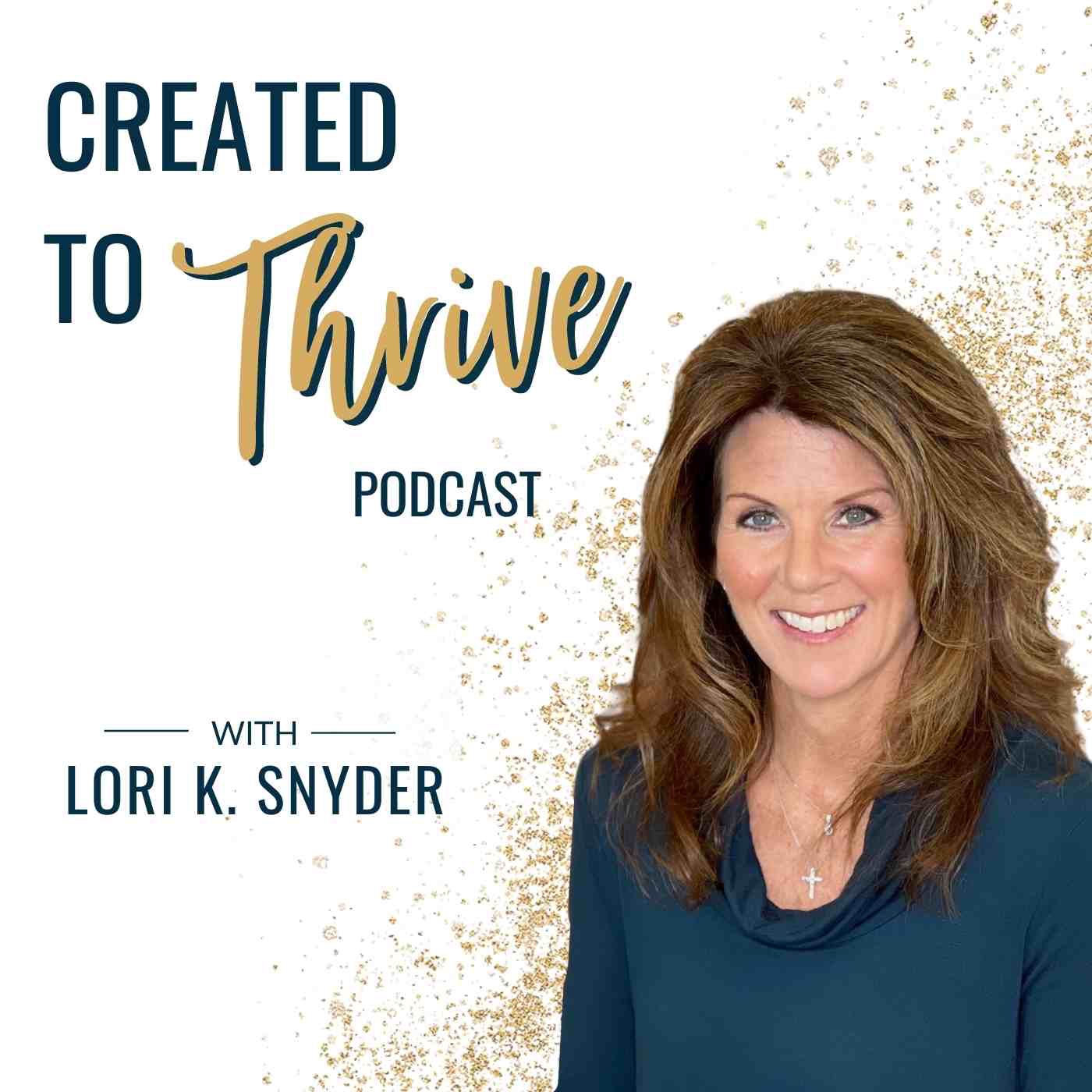 A go-to podcast for practical spiritual growth, resilience, emotional health, and personal transformation to unlock your God-given potential and purpose. ****TOP 5% CHRISTIAN FAITH PODCAST**** Do you want practical steps to help you overcome doubt, disappointments, loss or regret? Do you want to learn how to confidently hear and trust God to move forward with purpose and significance? Created To Thrive is a weekly faith-building podcast that equips you to become resilient and unlock your God-given potential. Through practical, meaningful conversations along with biblical insight, get empowered to step into a joyful life of significance. Hi, I'm Lori K. Snyder, a Christian resiliency coach, minister and Bible teacher. I help people in their midlife jumpstart their lives to thrive in their God-given purpose. I am passionate about equipping people to discover who God created them to be and how to live to the fullest through an intimate relationship with Him and others. I will teach you: -> How to become resilient through life's ups and downs, and navigate doubts and disappointments -> How to manage your emotions and thoughts to gain healthy ways of coping -> Practically apply biblical understanding with wisdom, and form a deeper connection with God -> Find hope, healing, joy and purpose -> Discover the MORE you were created for I will be your guide on this transformative journey, to help you overcome the obstacles that keep you from thriving and live freely and fully! Watch this free Training on How To Live In God's Best: https://loriksnyder.com/free-training/ Let's connect: Lori@loriksnyder.com Community: https://www.facebook.com/groups/thrivingchristianwomen Instagram: https://www.instagram.com/lorikaysnyder/ https://www.facebook.com/lorikaysnyder Learn: https://loriksnyder.com Tax Deductible Donation to support this podcast: https://loriksnyder.com/about/snyder-ministries/
Episodes
Tuesday Oct 25, 2022
Have you ever tracked how much time you spend on a social media platform and/or how you feel afterwards?
Have you ever got sucked into a continual scrolling?
Perhaps you read a post or comment that was very divisive and made you angry. Now you can't even talk to that person.
Social media like Facebook, Instagram and Twitter have had a dramatic impact on our society, and many are rethinking how much time they want to spend on their devices. Especially now as we head into elections and the holiday season. 
I want to help you thrive emotionally, relationally, spiritually and physically. In doing so, we need to be intentional and address anything that might have a control over us. (John 10:10, 3John1:2, Romans 12:2)
In today's episode, my new friend and guest, Sandy Cooper, discuss the reasons why she needed to take a break from social media, and how she now helps others reclaim their freedom and life by reducing the amount of time on various platforms.
Sandy is the podcast host of The Balanced MomCast, a blogger at thescooponbalance.com and author. Today she discusses how after many years of building a successful business on social media platforms, she one day realized how controlled she was by her phone, and her mental and emotional health were negatively impacted. 
Sandy helps other overwhelmed moms and entrepreneurs take short and longer breaks from social media to reclaim their time and life. 
Social media is intentionally designed to be like a drug, to get you hooked by giving your brain a dopamine fix. While we might think we are connected to more people around the world, research is showing that people feel more disconnected, isolated, anxious and depressed. 
Beginning November 1st, she is offering a 7-Day Challenge to help moms break the addictive cycle of social media, reassess their relationship with it, and reclaim the time they lose to these platforms. 
Invest your time into meaningful, life-giving, and eternally relevant activities
Rediscover a full and free life away from social media
Take control of your mental and emotional health
Feel focused and calm

 

Guard your heart against unfiltered and algorithm-driven content

 
Get all of the details and take a quiz to see how much of your life has been impacted here: https://thescooponbalance.com
****
Have you got my FREE 1 Hour Training yet?  I want to help you discover God's Best for you, receive Truth, and hear His voice with confidence. You were created to be His representative here on earth, to live in His fullness and thrive! https://loriksnyder.com/resources/free-workshop/
I would love to connect with you!
IG: https://www.instagram.com/lorikaysnyder/
FB:https://www.facebook.com/lorikaysnyder
LinkedIn: https://www.linkedin.com/in/lorikaysnyder/