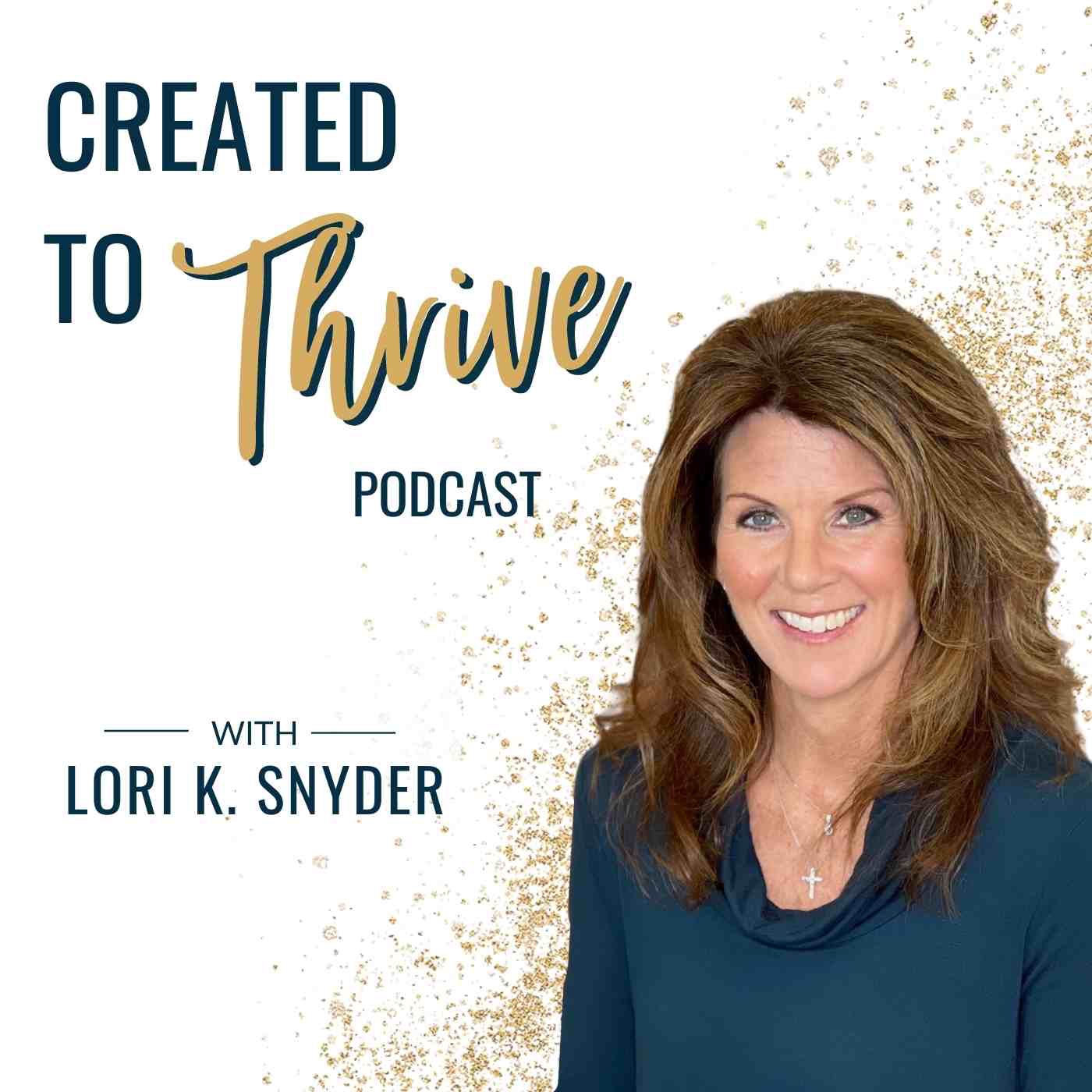 A go-to podcast for practical spiritual growth, resilience, emotional health, and personal transformation to unlock your God-given potential and purpose. ****TOP 5% CHRISTIAN FAITH PODCAST**** Do you want practical steps to help you overcome doubt, disappointments, loss or regret? Do you want to learn how to confidently hear and trust God to move forward with purpose and significance? Created To Thrive is a weekly faith-building podcast that equips you to become resilient and unlock your God-given potential. Through practical, meaningful conversations along with biblical insight, get empowered to step into a joyful life of significance. Hi, I'm Lori K. Snyder, a Christian resiliency coach, minister and Bible teacher. I help people in their midlife jumpstart their lives to thrive in their God-given purpose. I am passionate about equipping people to discover who God created them to be and how to live to the fullest through an intimate relationship with Him and others. I will teach you: -> How to become resilient through life's ups and downs, and navigate doubts and disappointments -> How to manage your emotions and thoughts to gain healthy ways of coping -> Practically apply biblical understanding with wisdom, and form a deeper connection with God -> Find hope, healing, joy and purpose -> Discover the MORE you were created for I will be your guide on this transformative journey, to help you overcome the obstacles that keep you from thriving and live freely and fully! Watch this free Training on How To Live In God's Best: https://loriksnyder.com/free-training/ Let's connect: Lori@loriksnyder.com Community: https://www.facebook.com/groups/thrivingchristianwomen Instagram: https://www.instagram.com/lorikaysnyder/ https://www.facebook.com/lorikaysnyder Learn: https://loriksnyder.com Tax Deductible Donation to support this podcast: https://loriksnyder.com/about/snyder-ministries/
Episodes
Wednesday Dec 14, 2022
***Get you FREE Bible Training: How To Live In God's Best For You! LoriKsnyder.com/free-training/  
Understand what God has made available to you through Jesus' obedience and finished work.
Jesus is the Savior of the World, Prince of Peace, Immanuel....
Salvation means more than the forgiveness of our sins so we can go to heaven! Salvation includes deliverance, protection, prosperity, peace, healing and wholeness. It sums up all of the blessings bestowed by God on those who are in Christ through the power of the Holy Spirit!
Jesus' Salvation is for the whole person: spirit, soul and body. He has an entire benefits package for you in His finished work on the cross. It's time to believe and receive all He has paid for you.
Jesus is our salvation and has redeemed us. To redeem means to brings back to its original state, even if we have brought something on ourself. Redemption is both spiritual and physical. 
Jesus' death, burial and resurrection redeemed mankind back to God's original plan of being in a close, personal relationship with Him.
Key Scriptures:
The Gospel is the power of God unto salvation for everyone who believes. (Romans 1:16)
Psalm 103
Isaiah 53
Romans 12:2
Genesis 1:26-31
Want personal transformation to become who God has called you to be and experience ALL He has for you?
Connect with me!
IG: https://www.instagram.com/lorikaysnyder/
FB:https://www.facebook.com/lorikaysnyder
LinkedIn: https://www.linkedin.com/in/lorikaysnyder/
Listen to this other helpful episode: