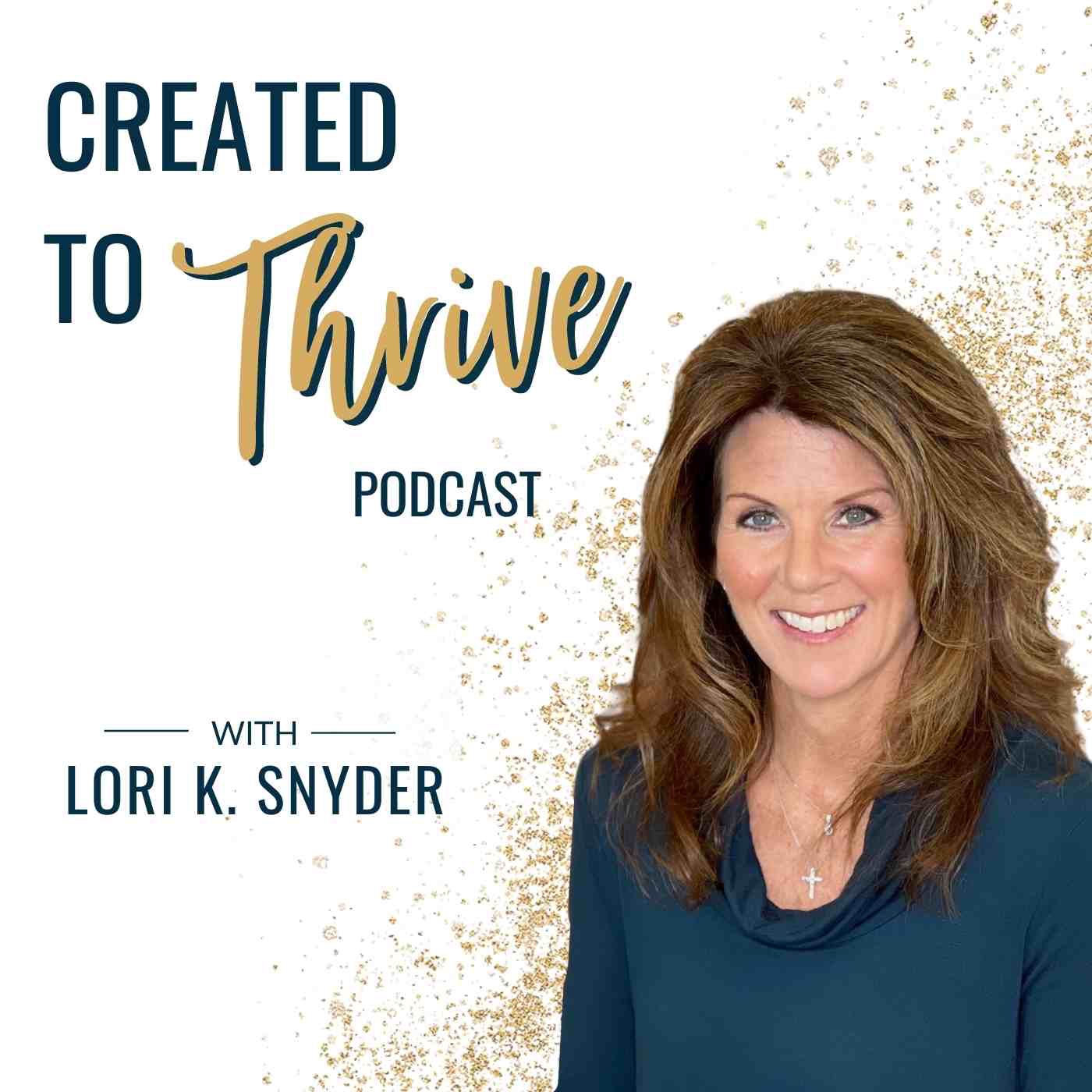 A go-to podcast for practical spiritual growth, resilience, emotional health, and personal transformation to unlock your God-given potential and purpose. ****TOP 5% CHRISTIAN FAITH PODCAST**** Do you want practical steps to help you overcome doubt, disappointments, loss or regret? Do you want to learn how to confidently hear and trust God to move forward with purpose and significance? Created To Thrive is a weekly faith-building podcast that equips you to become resilient and unlock your God-given potential. Through practical, meaningful conversations along with biblical insight, get empowered to step into a joyful life of significance. Hi, I'm Lori K. Snyder, a Christian resiliency coach, minister and Bible teacher. I help people in their midlife jumpstart their lives to thrive in their God-given purpose. I am passionate about equipping people to discover who God created them to be and how to live to the fullest through an intimate relationship with Him and others. I will teach you: -> How to become resilient through life's ups and downs, and navigate doubts and disappointments -> How to manage your emotions and thoughts to gain healthy ways of coping -> Practically apply biblical understanding with wisdom, and form a deeper connection with God -> Find hope, healing, joy and purpose -> Discover the MORE you were created for I will be your guide on this transformative journey, to help you overcome the obstacles that keep you from thriving and live freely and fully! Watch this free Training on How To Live In God's Best: https://loriksnyder.com/free-training/ Let's connect: Lori@loriksnyder.com Community: https://www.facebook.com/groups/thrivingchristianwomen Instagram: https://www.instagram.com/lorikaysnyder/ https://www.facebook.com/lorikaysnyder Learn: https://loriksnyder.com Tax Deductible Donation to support this podcast: https://loriksnyder.com/about/snyder-ministries/
Episodes
Wednesday Dec 28, 2022
There are many gifts within the gift of salvation.
I want to help you discover and activate all that is available to you through Jesus' cross and resurrection.
1. We get a new Father. (John 1:12-13)
2. We get a new nature and identity change. (2 Corinthians 5:17) We undergo a radical internal change. Our old self has been crucified with Christ, and we have a brand-new self, which is created in righteousness and holiness. You have a new nature. Identity - We are created in His image. We have the spiritual DNA of God.
3. We get a new family. We are united with Christ and joined to the body of Christ. Not only do we have union with the triune God, but we are also united with every other believer. (Romans 12:5)
Here is some of what you have been given through salvation:
A Heavenly Father who loves us unconditionally.
Peace With God
Union with Christ
The mind of Christ
The Name of Jesus
The power of the Holy Spirit
The gifts of the Holy Spirit
The fruit of the Holy Spirit
The full armor of God: The Belt of truth, Breastplate of righteousness, Shoes with the readiness of the Gospel of peace, Shield of faith, Helmet of salvation, Sword of the Spirit which is the Word of God.
the better covenant made upon better promises, 
the living Word of God, 
the keys of the Kingdom, 
the power of prayer, 
the blood of Jesus, 
and righteousness by faith.
Inheritance
*Declarations*
Declare these truths to help remind you of what you have been given through salvation:
I have been delivered from the power of darkness and translated into the Kingdom of His dear Son.
I have been born again by the incorruptible seed of God's Word.
I have been given all things that pertain to life and godliness, through the knowledge of God and Jesus His Son.
I am God's workmanship created in Christ Jesus.
My spirit is alive to God and I have a new nature.
I am strengthened with all might according to His glorious power. 
I have the Greater One living within me and have authority over the devil. 
The Spirit of Truth abides in me. He is my Helper, Counselor, Teacher, He shows me things to come and guides me into all truth.
I hear God's voice and follow Him. I trust in the Lord with all my heart and will not lean on my own understanding.  In all my ways I acknowledge Him and He directs my path. I am not wise in my own eyes.
Jesus is made unto me wisdom, righteousness, sanctification, and redemption. I am filled with the knowledge of His will in all wisdom and spiritual understanding. I can do all things through Christ who strengthens me. 
Questions: contact me 
IG: @lorikaysnyder  https://www.instagram.com/lorikaysnyder/
FB: @lorikaysnyder https://www.facebook.com/lorikaysnyder
LinkedIn: https://www.linkedin.com/in/lorikaysnyder/
***FREE Bible Training: How To Live In God's Best For You! LoriKsnyder.com/free-training/  
Understand what God has made available to you through Jesus' obedience and finished work.
*Support this podcast with a tax-deductible donation here. https://loriksnyder.com/about/snyder-ministries/