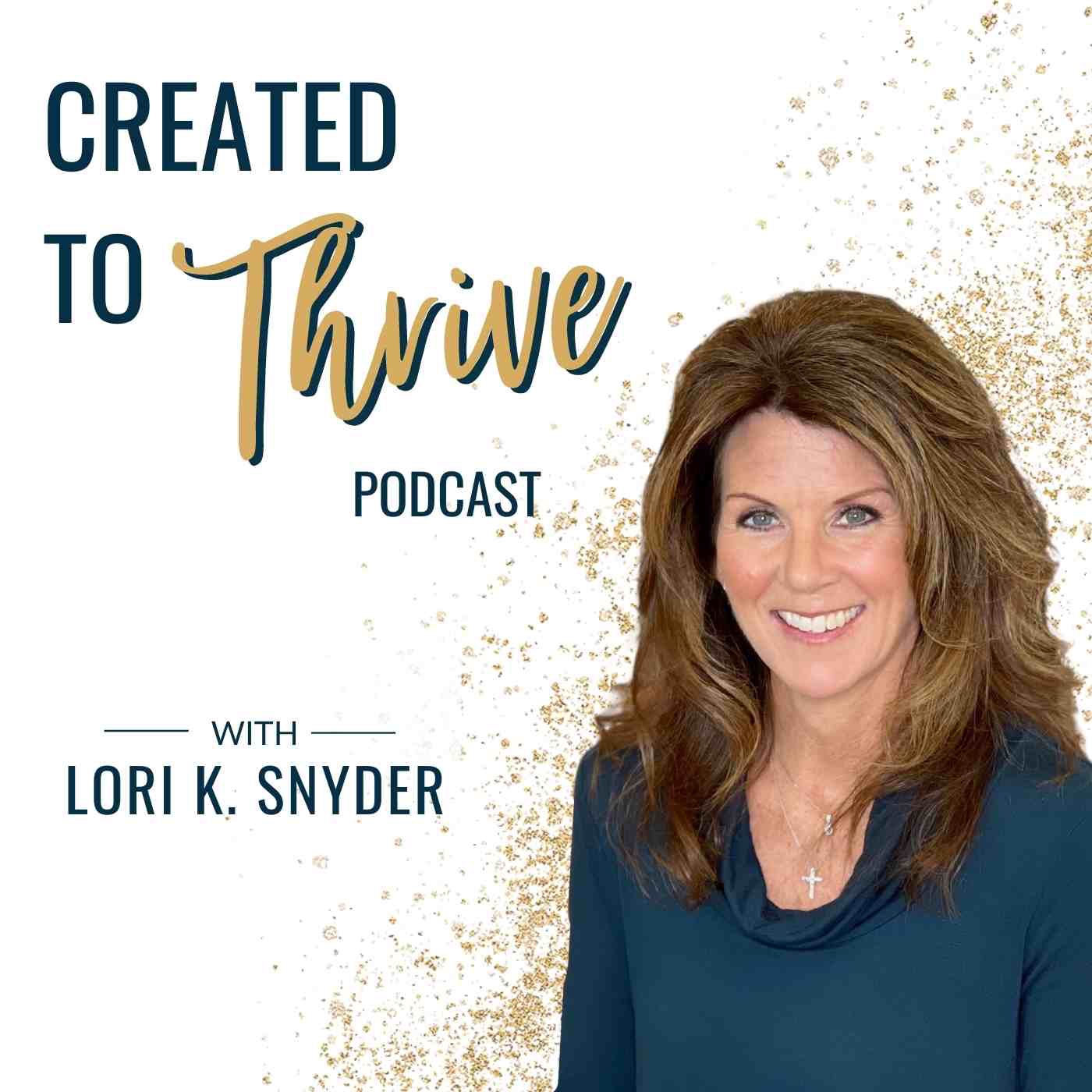 A go-to podcast for practical spiritual growth, resilience, emotional health, and personal transformation to unlock your God-given potential and purpose. ****TOP 5% CHRISTIAN FAITH PODCAST**** Do you want practical steps to help you overcome doubt, disappointments, loss or regret? Do you want to learn how to confidently hear and trust God to move forward with purpose and significance? Created To Thrive is a weekly faith-building podcast that equips you to become resilient and unlock your God-given potential. Through practical, meaningful conversations along with biblical insight, get empowered to step into a joyful life of significance. Hi, I'm Lori K. Snyder, a Christian resiliency coach, minister and Bible teacher. I help people in their midlife jumpstart their lives to thrive in their God-given purpose. I am passionate about equipping people to discover who God created them to be and how to live to the fullest through an intimate relationship with Him and others. I will teach you: -> How to become resilient through life's ups and downs, and navigate doubts and disappointments -> How to manage your emotions and thoughts to gain healthy ways of coping -> Practically apply biblical understanding with wisdom, and form a deeper connection with God -> Find hope, healing, joy and purpose -> Discover the MORE you were created for I will be your guide on this transformative journey, to help you overcome the obstacles that keep you from thriving and live freely and fully! Watch this free Training on How To Live In God's Best: https://loriksnyder.com/free-training/ Let's connect: Lori@loriksnyder.com Community: https://www.facebook.com/groups/thrivingchristianwomen Instagram: https://www.instagram.com/lorikaysnyder/ https://www.facebook.com/lorikaysnyder Learn: https://loriksnyder.com Tax Deductible Donation to support this podcast: https://loriksnyder.com/about/snyder-ministries/
Episodes
Tuesday Apr 11, 2023
Are you facing a situation that seems impossible or even dead right now? 
Perhaps it's your marriage, an estranged child, or a dream you've had. Maybe it seems like you'll never find the right spouse, or conceive children, heal from a disease or terminal diagnosis, an addiction; or maybe it's a business idea that's never taken off and you are facing bankruptcy.
Despair is a feeling of utter hopelessness and deep sorrow that arises when we face extremely difficult or painful circumstances that seem impossible to overcome. It is a state of emotional and spiritual emptiness where one feels overwhelmed, defeated, and without any sense of purpose or direction.
Despair can be caused by a wide range of factors, such as the loss of a loved one, a traumatic experience, a chronic illness, or a major life transition. It can lead to depression, anxiety, and other mental health issues if left unaddressed. 
In today's episode, I discuss three key points to help you overcome despair and discover hope in difficult times, and share a personal story of my own. With God, nothing is impossible for those who believe.
whatever you are facing that might seem impossible to recover from, there is hope and it's found in Jesus Christ, who is the Resurrection and the Life! He has defeated sin and death and has the power to breathe new life into your situation. 
Exactly seventeen years ago, were getting divorced but suddenly God resurrected our dead marriage. 
Listen to more of our story of overcoming marital separation in Ep. 12 "When All Hope Seems Lost" and Ep. 72 "Navigating Grief: 3 Keys To Moving Forward After Loss + Tips".
*Want to have a coaching session with me to discover what your heart needs to thrive?
Email: Lori@Loriksnyder.com
Message me on Facebook or Instagram  @lorikaysnyder
**Grab this FREE Resource: How To Live In God's Best For You!