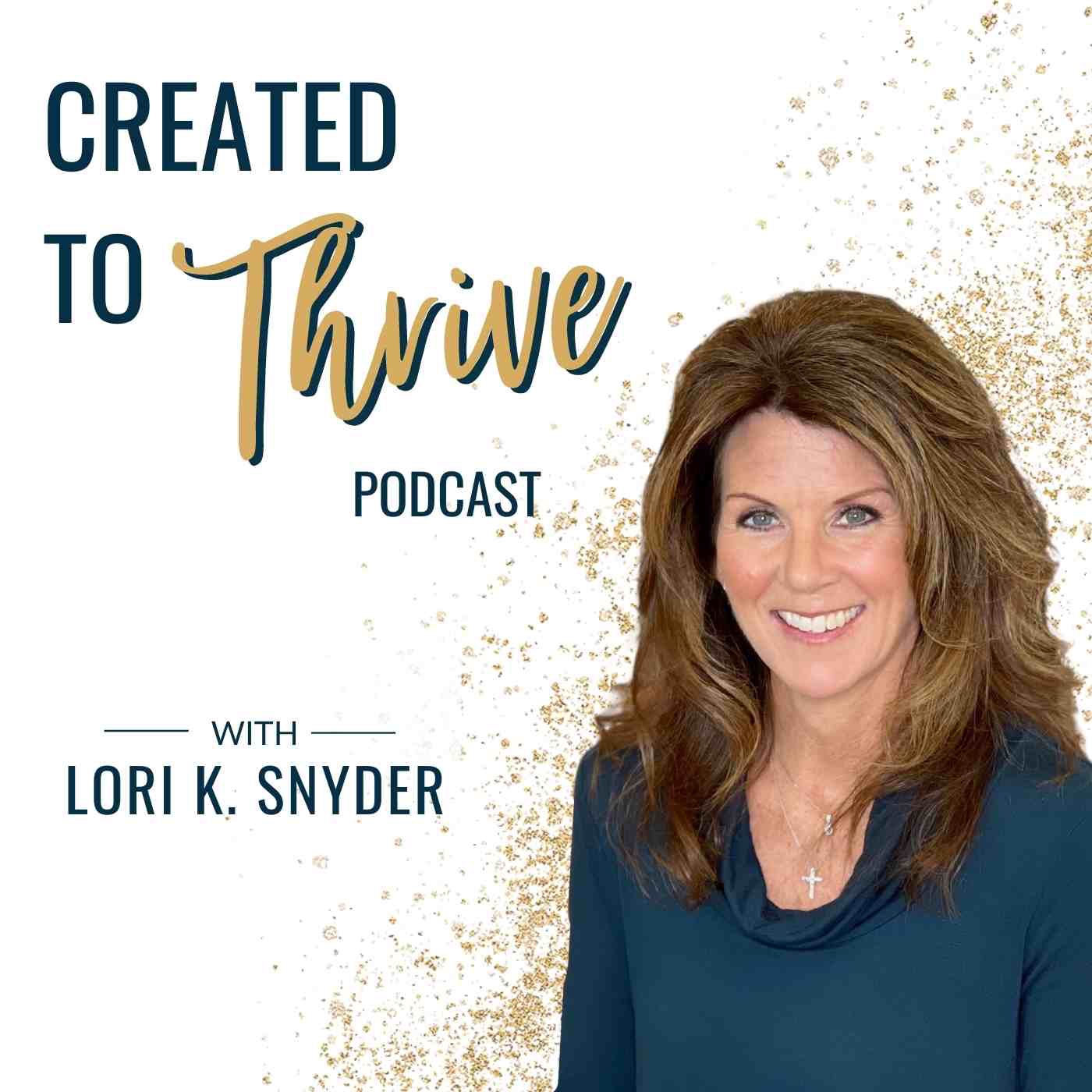 A go-to podcast for practical spiritual growth, resilience, emotional health, and personal transformation to unlock your God-given potential and purpose. ****TOP 5% CHRISTIAN FAITH PODCAST**** Do you want practical steps to help you overcome doubt, disappointments, loss or regret? Do you want to learn how to confidently hear and trust God to move forward with purpose and significance? Created To Thrive is a weekly faith-building podcast that equips you to become resilient and unlock your God-given potential. Through practical, meaningful conversations along with biblical insight, get empowered to step into a joyful life of significance. Hi, I'm Lori K. Snyder, a Christian resiliency coach, minister and Bible teacher. I help people in their midlife jumpstart their lives to thrive in their God-given purpose. I am passionate about equipping people to discover who God created them to be and how to live to the fullest through an intimate relationship with Him and others. I will teach you: -> How to become resilient through life's ups and downs, and navigate doubts and disappointments -> How to manage your emotions and thoughts to gain healthy ways of coping -> Practically apply biblical understanding with wisdom, and form a deeper connection with God -> Find hope, healing, joy and purpose -> Discover the MORE you were created for I will be your guide on this transformative journey, to help you overcome the obstacles that keep you from thriving and live freely and fully! Watch this free Training on How To Live In God's Best: https://loriksnyder.com/free-training/ Let's connect: Lori@loriksnyder.com Community: https://www.facebook.com/groups/thrivingchristianwomen Instagram: https://www.instagram.com/lorikaysnyder/ https://www.facebook.com/lorikaysnyder Learn: https://loriksnyder.com Tax Deductible Donation to support this podcast: https://loriksnyder.com/about/snyder-ministries/
Episodes
Thursday Apr 20, 2023
Want to learn how to tune into your emotional health and experience spiritual rest?
Today I am sharing an interview I recently did on my good friend's podcast, Attuned For Wholeness with Lisa Pinney, who is an anxiety and unresolved trauma coach. She and her team decided to develop an app to make emotional health, wholeness, and spiritual rest a regular part of daily living. It's much more than mindfulness, meditation, or deep breathing for stress relief. It's called the Get Attuned App.
This new app combines self-awareness, with the ability to navigate through difficult, confusing, painful emotions and be able to connect with God in ways that bring us back to a place of calm and deep rest. 
It will soon be released on Google Play and Apple store. 
I am also an approved coach on the Get Attuned App. 
Learn more:  https://www.wholenessinpractice.com/
Connect with Lisa
IG: https://www.instagram.com/lpinney1/
TikTok: https://www.tiktok.com/@lisapinney996?lang=en
I am a Spiritual Growth and Emotional Wellness Coach. If you want to learn more about my 1-1 coaching, email me at lori@loriksnyder.com. 
Listen to other episodes with Lisa Pinney on the Created To Thrive Podcast:
Ep. 78 Facing Your Pain Of Negative Emotions