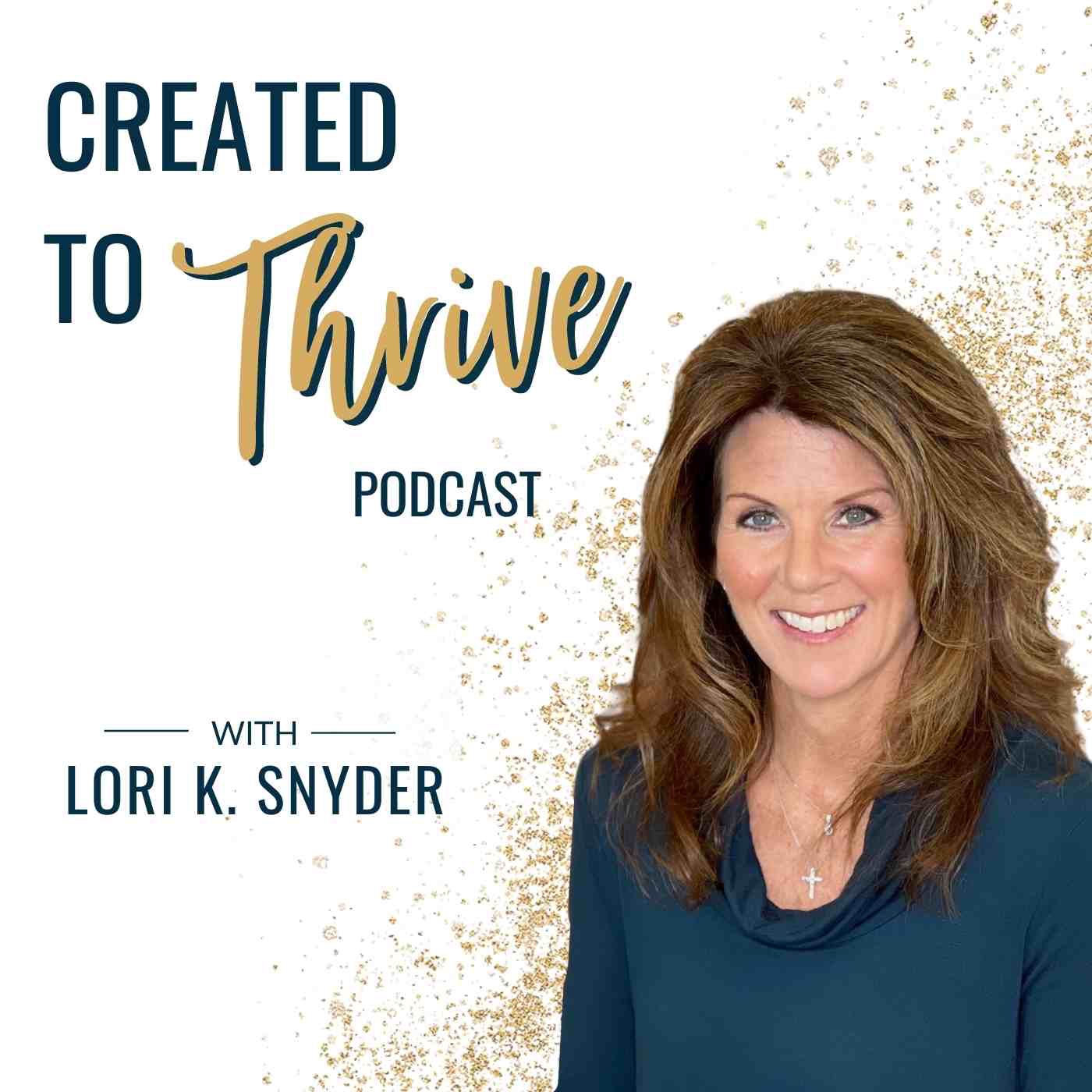 A go-to podcast for practical spiritual growth, resilience, emotional health, and personal transformation to unlock your God-given potential and purpose. ****TOP 5% CHRISTIAN FAITH PODCAST**** Do you want practical steps to help you overcome doubt, disappointments, loss or regret? Do you want to learn how to confidently hear and trust God to move forward with purpose and significance? Created To Thrive is a weekly faith-building podcast that equips you to become resilient and unlock your God-given potential. Through practical, meaningful conversations along with biblical insight, get empowered to step into a joyful life of significance. Hi, I'm Lori K. Snyder, a Christian resiliency coach, minister and Bible teacher. I help people in their midlife jumpstart their lives to thrive in their God-given purpose. I am passionate about equipping people to discover who God created them to be and how to live to the fullest through an intimate relationship with Him and others. I will teach you: -> How to become resilient through life's ups and downs, and navigate doubts and disappointments -> How to manage your emotions and thoughts to gain healthy ways of coping -> Practically apply biblical understanding with wisdom, and form a deeper connection with God -> Find hope, healing, joy and purpose -> Discover the MORE you were created for I will be your guide on this transformative journey, to help you overcome the obstacles that keep you from thriving and live freely and fully! Watch this free Training on How To Live In God's Best: https://loriksnyder.com/free-training/ Let's connect: Lori@loriksnyder.com Community: https://www.facebook.com/groups/thrivingchristianwomen Instagram: https://www.instagram.com/lorikaysnyder/ https://www.facebook.com/lorikaysnyder Learn: https://loriksnyder.com Tax Deductible Donation to support this podcast: https://loriksnyder.com/about/snyder-ministries/
Episodes
Wednesday May 10, 2023
Have you experienced deep hurt or betrayal? 
It's one thing to have a friend or coworker betray you, but what about your spouse?  The one who promised to be faithful, and to love and cherish you forever.
Friend, if you have experienced betrayal of any kind, know that you are not alone! I have walked through these dark waters for many years, and want you to know that there is hope, healing and even reconciliation available.
Today I want to begin a conversation about navigating betrayal and how to begin the healing process.
or on facebook, Instagram, or LinkedIn  @ Lorikaysnyder
Wives of Integrity online conference. There will be over 40 topics of marriage, to help you grow in communication, intimacy, finances, all types of issues… We cannot journey this alone, so I have a link to give you free access to this online event. 
I am honored to be one of 40 speakers. My workshop is titled: "Healing From Betrayal In Marriage: finding grace, faith and reconciliation."
I give practical ways to heal from all kinds of betrayal in marriage, and what steps do you need to take to move through your pain and work towards reconciliation. I also have a workbook that goes more in depth to help you heal your broken heart and rebuild trust in your marriage. 
*Perhaps you aren't married yet, but if you know someone who is, than I ask you share this podcast and link with them.
I know the devastation of what it's like to have that trust be broken, for your heart to be shattered, for your whole world to be turned upside down. If you have listened to my podcast before, I have shared how 17 years ago, my husband and I were separated and had filed for divorce. I know what it's like to feel blindsided, devastated and experience betrayal trauma.
I have also experienced the miraculous power of God's love to heal and transform my life and marriage. I want to encourage you that there is a way through this pain and it does not need to define you or your future! 
Today we will discuss how betrayal can come in many forms, not just sexual infidelity.  We need to become self-aware so we can begin healing.
I also share a sneak peak of Step 1 of my workshop:
Get Honest With Your Emotional Pain and Find Support
•Self Awareness of your emotional needs.  
•Support 
•Grieving 
•Self Care 
*Please share this episode and link with anyone you know is a wife or future wife. Thank you!