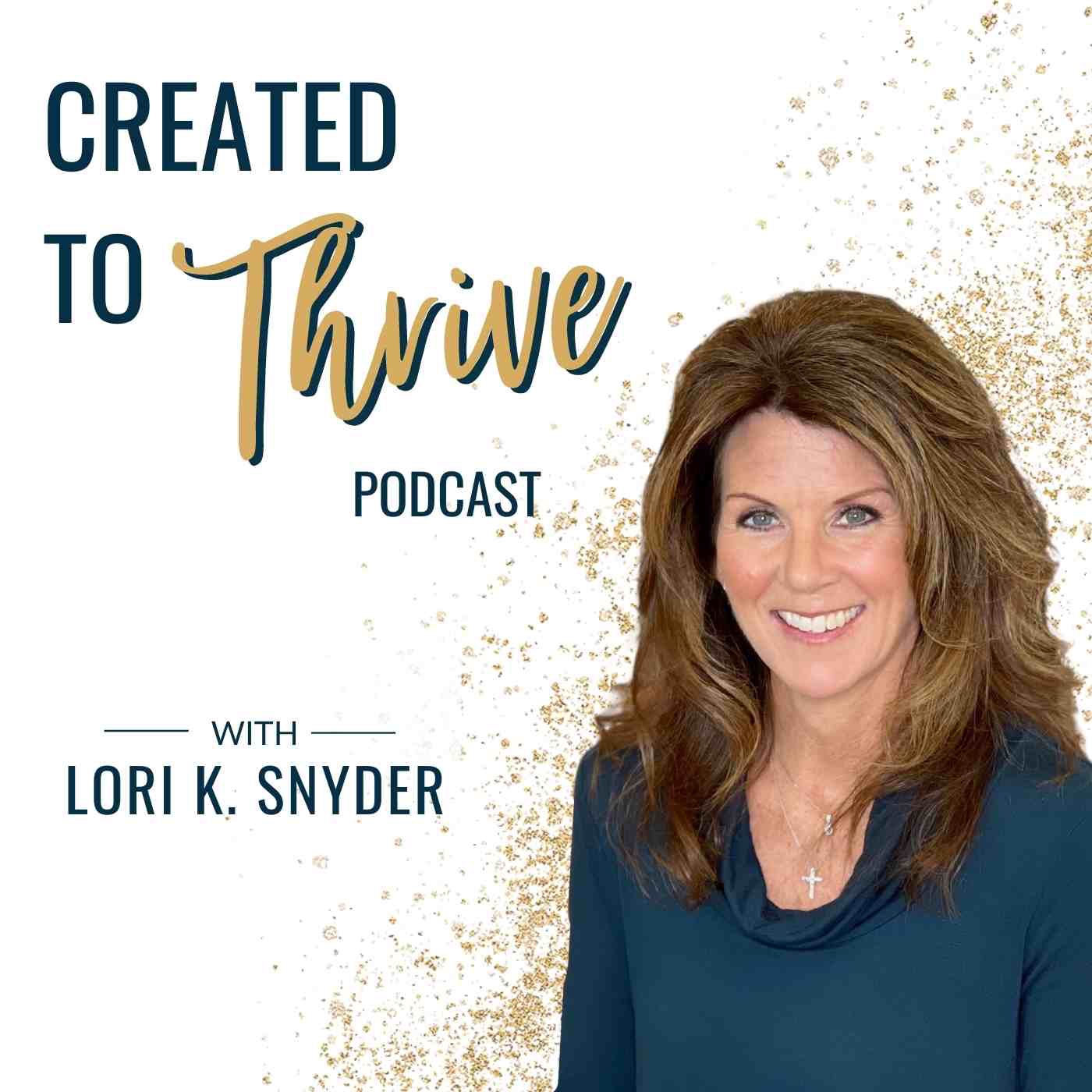 A go-to podcast for practical spiritual growth, resilience, emotional health, and personal transformation to unlock your God-given potential and purpose. ****TOP 5% CHRISTIAN FAITH PODCAST**** Do you want practical steps to help you overcome doubt, disappointments, loss or regret? Do you want to learn how to confidently hear and trust God to move forward with purpose and significance? Created To Thrive is a weekly faith-building podcast that equips you to become resilient and unlock your God-given potential. Through practical, meaningful conversations along with biblical insight, get empowered to step into a joyful life of significance. Hi, I'm Lori K. Snyder, a Christian resiliency coach, minister and Bible teacher. I help people in their midlife jumpstart their lives to thrive in their God-given purpose. I am passionate about equipping people to discover who God created them to be and how to live to the fullest through an intimate relationship with Him and others. I will teach you: -> How to become resilient through life's ups and downs, and navigate doubts and disappointments -> How to manage your emotions and thoughts to gain healthy ways of coping -> Practically apply biblical understanding with wisdom, and form a deeper connection with God -> Find hope, healing, joy and purpose -> Discover the MORE you were created for I will be your guide on this transformative journey, to help you overcome the obstacles that keep you from thriving and live freely and fully! Watch this free Training on How To Live In God's Best: https://loriksnyder.com/free-training/ Let's connect: Lori@loriksnyder.com Community: https://www.facebook.com/groups/thrivingchristianwomen Instagram: https://www.instagram.com/lorikaysnyder/ https://www.facebook.com/lorikaysnyder Learn: https://loriksnyder.com Tax Deductible Donation to support this podcast: https://loriksnyder.com/about/snyder-ministries/
Episodes
Tuesday May 23, 2023
Self care is the practice of taking intentional steps to look after your physical, mental, emotional and spiritual well-being. Self-care is essential for introverts, who often struggle with feeling overwhelmed and disconnected in a world that can be loud and chaotic.
My friend and guest, Sabrina Schottenhamel joins us today, as specializes in self care for introverts. In this episode, we will talk about how introverts can practice self care to recharge and live authentically.
We discuss the importance of taking time for ourselves, give some practical tips for best self-care practices, and how to stay true to yourself in a world that often favors extroverts.  
If not an introvert? This episode will help you better understand how to interact with, communicate with, and relate to people who prefer to keep their thoughts and feelings to themselves.
Sabrina Schottenhamel is a licensed massage therapist and professional speaker. Her passion for health and wellness is the motivation for her mission to create simple yet effective ways to enjoy life. Her motto is "One Voice. Two Hands" which blends the healing touch of her hands with the power of using her voice to share her wealth of knowledge.
*Connect with Sabrina:
Networking for Introverts Group https://us02web.zoom.us/meeting/register/tZMvd-2uqDsoHNBDf8T5R0CCoh3ycqYZuWfA#/registration
LinkedIn: https://www.linkedin.com/in/sabrinaschottenhamelspeaker/
Facebook: https://www.facebook.com/SabrinaSchott
Instagram: @sabrina.Schottenhamel
Website: https://www.sabrinaschottenhamel.com
**To Go Deeper:
Listen to Episode 46 "Important Self Care Questions To Help Your Thrive Today"
It's like a mini coaching session where I give you self-care and discovery  questions to ask yourself.
Connect with Lori:  https://loriksnyder.com/