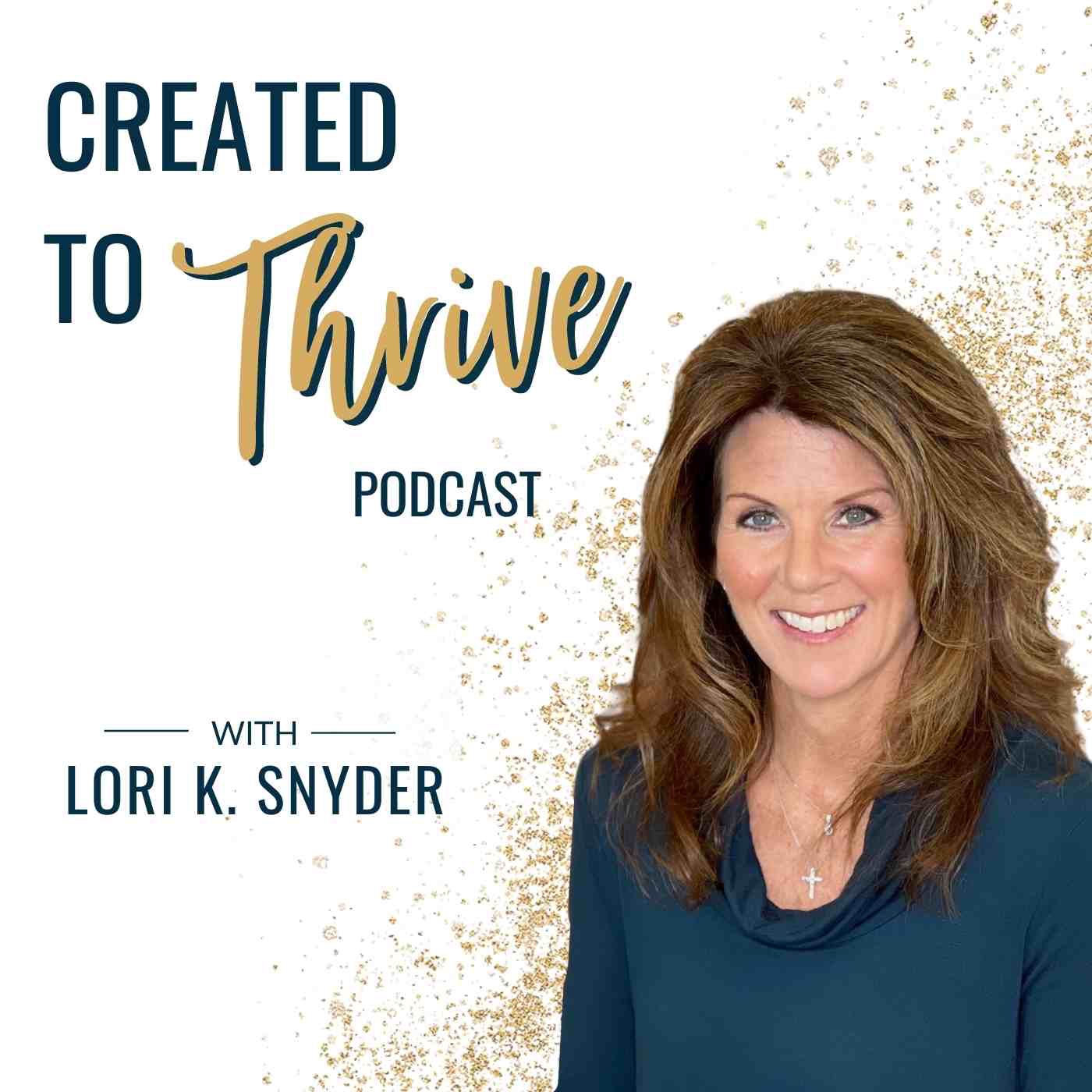 A go-to podcast for practical spiritual growth, resilience, emotional health, and personal transformation to unlock your God-given potential and purpose. ****TOP 5% CHRISTIAN FAITH PODCAST**** Do you want practical steps to help you overcome doubt, disappointments, loss or regret? Do you want to learn how to confidently hear and trust God to move forward with purpose and significance? Created To Thrive is a weekly faith-building podcast that equips you to become resilient and unlock your God-given potential. Through practical, meaningful conversations along with biblical insight, get empowered to step into a joyful life of significance. Hi, I'm Lori K. Snyder, a Christian resiliency coach, minister and Bible teacher. I help people in their midlife jumpstart their lives to thrive in their God-given purpose. I am passionate about equipping people to discover who God created them to be and how to live to the fullest through an intimate relationship with Him and others. I will teach you: -> How to become resilient through life's ups and downs, and navigate doubts and disappointments -> How to manage your emotions and thoughts to gain healthy ways of coping -> Practically apply biblical understanding with wisdom, and form a deeper connection with God -> Find hope, healing, joy and purpose -> Discover the MORE you were created for I will be your guide on this transformative journey, to help you overcome the obstacles that keep you from thriving and live freely and fully! Watch this free Training on How To Live In God's Best: https://loriksnyder.com/free-training/ Let's connect: Lori@loriksnyder.com Community: https://www.facebook.com/groups/thrivingchristianwomen Instagram: https://www.instagram.com/lorikaysnyder/ https://www.facebook.com/lorikaysnyder Learn: https://loriksnyder.com Tax Deductible Donation to support this podcast: https://loriksnyder.com/about/snyder-ministries/
Episodes
Tuesday Jun 13, 2023
Exploring mid life, how to do it well and positively affect younger generations.
In this episode, we welcome special guest Chris Bruno, co-founder and CEO of Restoration Project and founder and CEO of ReStory® Counseling. Chris has dedicated his career to helping people come alive and has written extensively on masculine identity, fatherhood, and building genuine friendships. 
With his mission and in honor of Father's Day approaching, Chris is a timely guest. Through personal examples and metaphors, we discuss the importance of recognizing and dealing with personal issues, finding trustworthy mentors, and doing the tough work required to achieve personal growth and development. We also emphasize the lost concept of becoming an elder and the importance of looking within oneself for identity. 
If you're looking for a roadmap for creating a life filled with joy, purpose and fulfillment, this episode is for you!  Join us as we explore The Power of Living Intentionally: Exploring Purpose and Fulfillment in the Second Half of Life with Chris Bruno.
Chris Bruno is the Co-Founder and CEO of Restoration Project and Founder and CEO of ReStory® Counseling, devoting his life to helping people come alive. He is the author of Sage: A Man's Guide Into His Second Passage, Man Maker Project: A Father's Guide to Initiating His Son to Manhood and Brotherhood Primer: A Journey Into Genuine Masculine Friendships, and a licensed professional counselor. He has decades of experience helping men recover their hearts. 
Chris lives in Colorado with his wife of 27 years and they have three mostly adult children and enjoy adventures in the Colorado mountains or overseas whenever possible. He loves Jeeps, streams, whiskey, Scotland, and everything Celtic. 
Here's how to connect with Chris:
On Social Media:
Facebook: 
Instagram: 

Restoration Project: @restorationprojectco 
ReStory Counseling: @storyrestored
Connect with Lori:
Website: https://loriksnyder.com
Instagram @LoriKaySnyder