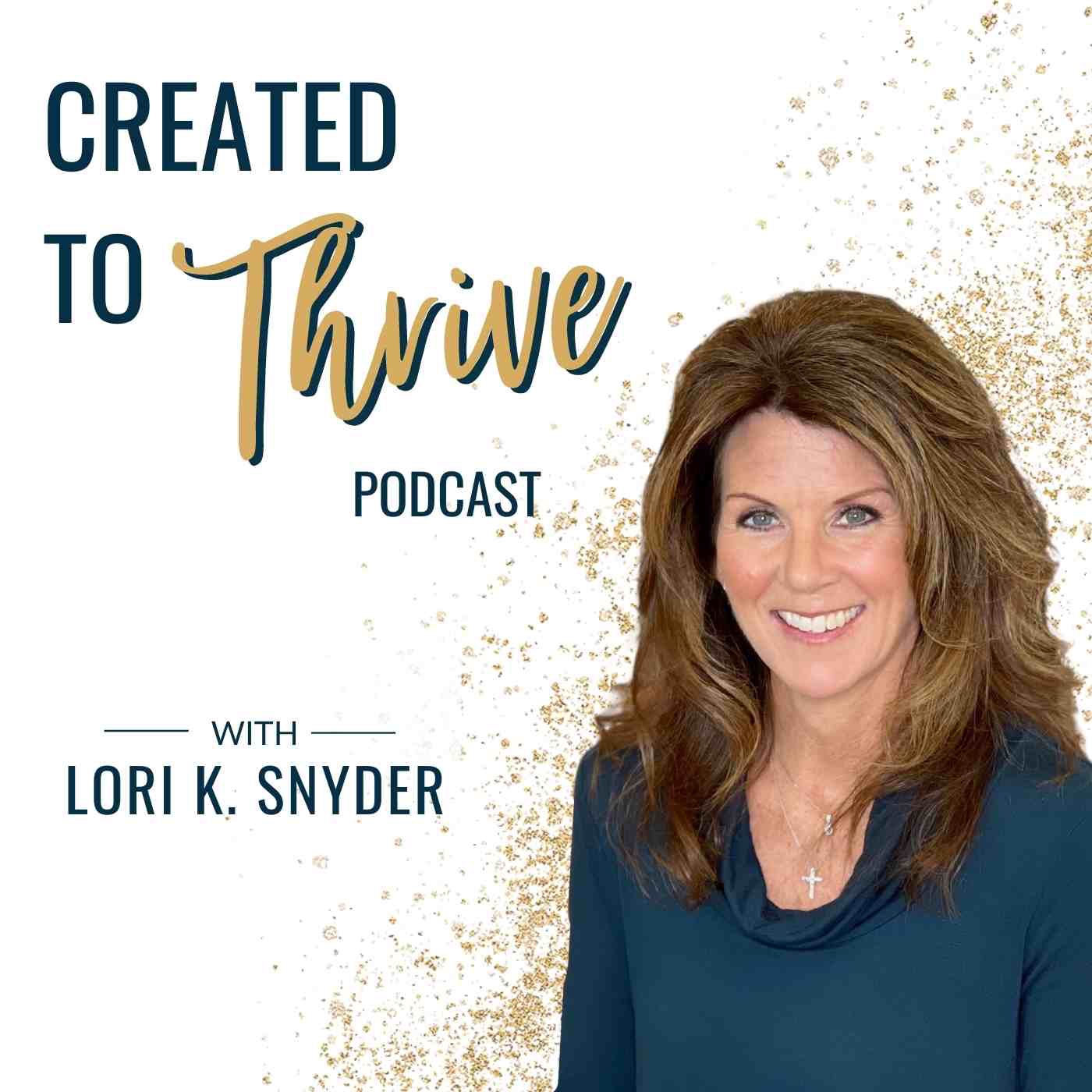 A go-to podcast for practical spiritual growth, resilience, emotional health, and personal transformation to unlock your God-given potential and purpose. ****TOP 5% CHRISTIAN FAITH PODCAST**** Do you want practical steps to help you overcome doubt, disappointments, loss or regret? Do you want to learn how to confidently hear and trust God to move forward with purpose and significance? Created To Thrive is a weekly faith-building podcast that equips you to become resilient and unlock your God-given potential. Through practical, meaningful conversations along with biblical insight, get empowered to step into a joyful life of significance. Hi, I'm Lori K. Snyder, a Christian resiliency coach, minister and Bible teacher. I help people in their midlife jumpstart their lives to thrive in their God-given purpose. I am passionate about equipping people to discover who God created them to be and how to live to the fullest through an intimate relationship with Him and others. I will teach you: -> How to become resilient through life's ups and downs, and navigate doubts and disappointments -> How to manage your emotions and thoughts to gain healthy ways of coping -> Practically apply biblical understanding with wisdom, and form a deeper connection with God -> Find hope, healing, joy and purpose -> Discover the MORE you were created for I will be your guide on this transformative journey, to help you overcome the obstacles that keep you from thriving and live freely and fully! Watch this free Training on How To Live In God's Best: https://loriksnyder.com/free-training/ Let's connect: Lori@loriksnyder.com Community: https://www.facebook.com/groups/thrivingchristianwomen Instagram: https://www.instagram.com/lorikaysnyder/ https://www.facebook.com/lorikaysnyder Learn: https://loriksnyder.com Tax Deductible Donation to support this podcast: https://loriksnyder.com/about/snyder-ministries/
Episodes
Tuesday Oct 05, 2021
We were created to thrive, not strive nor just survive! 
Hi! I'm Lori Snyder. I know what it's like to struggle to live the "Christian" life. For many years, I strived to please God, yet was self-sufficient and lived a facade to cover up my broken heart. I was bound by unforgiveness, fear, toxic thoughts and emotions. I related to God based on my performance, while consistently stuck in a cycle of sin-consciousness and condemnation.  
I have also struggled at times, stuck and merely surviving.
However, I now live differently—no longer a slave to sin, fear, and deep-rooted wrong beliefs; I have experienced a different way of living--the way God intends for us: full of trust and believing His Word.  
My life was dramatically changed years ago when I was faced with marital separation. Completely broken, I humbled myself and desperately cried out to God to change me and make me whole. I faced my deep pain and realized I had built my life upon countless lies about God and myself. I didn't know how to have an intimate relationship with the Lord.
As I immersed myself in His Word, I reconstructed a new foundation based on His Truths. As I did this, God opened my eyes to know His true nature and my identity in Christ. I began to live my life in union with Christ instead of one based upon my duty and performance. As I gained revelation of God's unconditional love, grace, and forgiveness, my strongholds were broken, physical and emotional healings occurred, and God redeemed my dead marriage! 
God's Word works and I want to help you apply it to your own life so you can thrive in every area of life!
Grab these Free Resources:
Free Training: Receiving God's Best For You
Free Guide: Hear God With Confidence:
*Support this podcast with a tax-deductible donation:  https://loriksnyder.com/about/snyder-ministries/