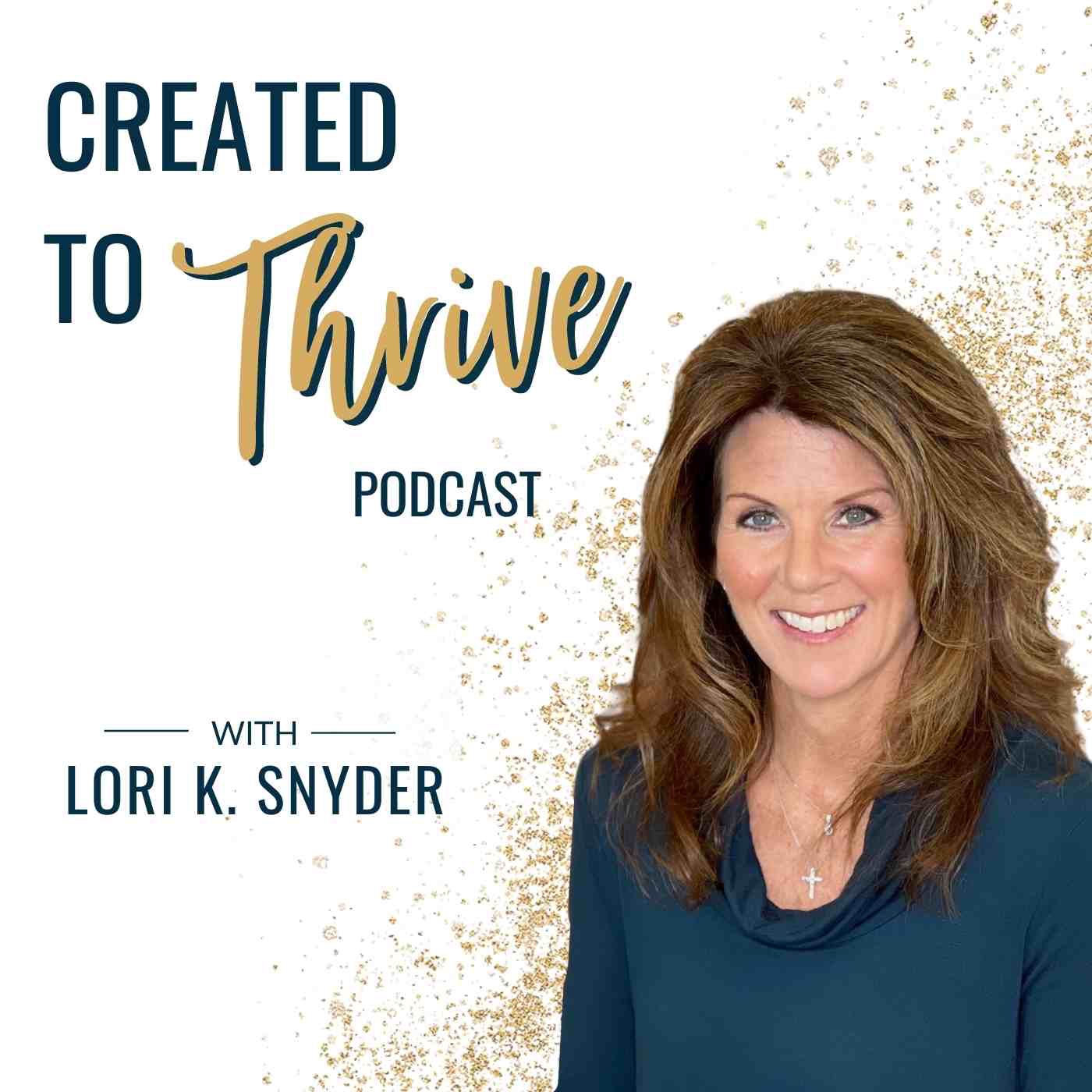 A go-to podcast for practical spiritual growth, resilience, emotional health, and personal transformation to unlock your God-given potential and purpose. ****TOP 5% CHRISTIAN FAITH PODCAST**** Do you want practical steps to help you overcome doubt, disappointments, loss or regret? Do you want to learn how to confidently hear and trust God to move forward with purpose and significance? Created To Thrive is a weekly faith-building podcast that equips you to become resilient and unlock your God-given potential. Through practical, meaningful conversations along with biblical insight, get empowered to step into a joyful life of significance. Hi, I'm Lori K. Snyder, a Christian resiliency coach, minister and Bible teacher. I help people in their midlife jumpstart their lives to thrive in their God-given purpose. I am passionate about equipping people to discover who God created them to be and how to live to the fullest through an intimate relationship with Him and others. I will teach you: -> How to become resilient through life's ups and downs, and navigate doubts and disappointments -> How to manage your emotions and thoughts to gain healthy ways of coping -> Practically apply biblical understanding with wisdom, and form a deeper connection with God -> Find hope, healing, joy and purpose -> Discover the MORE you were created for I will be your guide on this transformative journey, to help you overcome the obstacles that keep you from thriving and live freely and fully! Watch this free Training on How To Live In God's Best: https://loriksnyder.com/free-training/ Let's connect: Lori@loriksnyder.com Community: https://www.facebook.com/groups/thrivingchristianwomen Instagram: https://www.instagram.com/lorikaysnyder/ https://www.facebook.com/lorikaysnyder Learn: https://loriksnyder.com Tax Deductible Donation to support this podcast: https://loriksnyder.com/about/snyder-ministries/
Episodes
Monday Apr 04, 2022
Today's episode will encourage you to breakthrough insecurities and limiting beliefs, overcome obstacles and turn your mess into a powerful message!
My guest today is Crystal Daye, founder of DayeLight Publishers, has a beautiful testimony of the redeeming power of Christ. Crystal was born in Kingston Jamaica. After living a life of partying, poverty, promiscuity, being abused and struggling with feelings of inadequacy, she encountered Jesus Christ and found true purpose. Now she is passionate about empowering women to deepen their intimacy with God, discover their identity and use their own message to impact lives. She is a best selling author, international speaker and successful entrepreneur. Crystal Daye is an Award Winning Author, International Speaker, Christian Business Coach, and COO of DayeLight Publishers.
If you or anyone you know struggles with insecurity, low self worth, a lack mindset, sin, shame…really ANYTHING that is holding you back from living the life God created for you then you are going to want to take notes on today's episode and share it with others!
To connect with Crytsaly, visit:  https://crystaldaye.com
Podcast: Diary Of A Jesus Girl Podcast
IG and FB: @crystalsdaye
YouTube: Listen to her testimony in 5 mins here at youtube.com/watch?v=vF3zchyNwm0
Connect with Lori:
IG and FB: @lorikaysnyder
*Support this podcast with a tax-deductible donation:  https://loriksnyder.com/about/snyder-ministries/